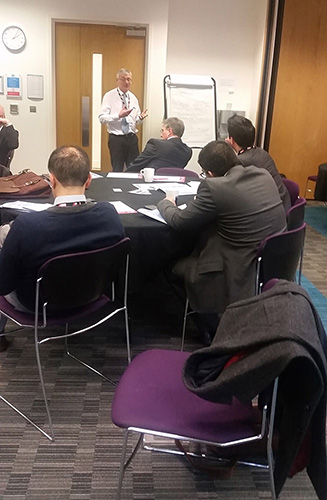 This week I had the pleasure of attending the Institution of Mechanical Engineers: Operational Excellence in complex environments conference. The diverse range of topics and insights are too numerous to cover in this post, but I thought I would share the output of a roundtable that I chaired on the afternoon of the second day.
The roundtables organized for the afternoon session all took international perspectives on Operational Excellence, with topics such as: How is OPEX viewed internationally? and another discussion on how culture should play a role in OPEX strategy. Our group had the interesting challenge of addressing the following question: "Apart from the UK, which other countries can be seen as OPEX Leaders?"
It's fair to say that we had some debate on the premise of the question, whether we thought the UK was an OPEX Leader, whether we had seen more of a focus on manufacturing leadership during the presentations thus far and whether it was even about countries but rather more about companies themselves. We decided to push ahead, and came up with some criteria or conditions that we felt would need to exist in a country for Operational Excellence to flourish.
A sense of ambition for and a commitment to Operational Excellence
We felt that the country needed to have some ambition to see beyond its current condition, to leverage the unintended positive consequences of fostering such a culture. That ideally this should manifest itself in government policy or role modelling.
Two examples were the excellent work Fluor do in not just focusing on decommissioning power plants, but also the work they put into reviving local economies through enhanced skills and job prospects. Another example was that of Sheikh Mohammed bin Rashid Al Maktoum, Ruler of Dubai. He is very active on social media extolling the virtues of e-government, continuous improvement and encouraging public sector worker to solve problems and bring new ideas.
A balance in labour conditions
Does the country have a good circulation in its population, the ability for citizens to move around the country for jobs and opportunities, so that workers with different perspectives, background, education and social standing are able to interact with one another?
Additionally do labour regulations allow companies to be agile and adaptive in the way they resource their activities? Whilst at the same time giving sufficient security to its citizens to take risks. I've often thought that the "at will" contractual standards in the US could or maybe even already are holding back innovation; as employees play it safe for fear of receiving the cardboard box
A broad enough understanding of the principles
Are Operational Excellence principles ingrained in the education systems, diploma's, apprenticeships? Is the curriculum balancing the needs of society and the priorities of industry
Ability to analyse large amounts of data
A large part of achieving Operational Excellence is in measuring and analyzing performance data, this is growing more complex by the day, so does the country have access to citizens that have the skills to use new technology? Are there enough providers and a broad enough range of solutions to satisfy the need?
A culture of transparency
Operational Excellence doesn't happen in a vacuum, you have to be willing to share internally, and increasingly externally through benchmarking exercises and industry forums. We suggested that if the country doesn't score well on the Transparency International index that it is unlikely that operational excellence could thrive, as there are cultural and systemic barriers to sharing.
Do national stereotypes play a role
We weren't sold on the impact this. But could a country that has a well known stereotype use this as a motivation or as part of its culture to drive forward into operational excellence leadership? Alternatively do lazy "southern European" stereotypes hold those countries back? What also needs to be considered here is the multinational nature of business in the 21st Century, does a French company with offices globally feel the benefit/impediment of stereotypes?
What are your thoughts on the criteria that would need to exist in a country for Operational Excellence to flourish?
Join the conversation in the comments.