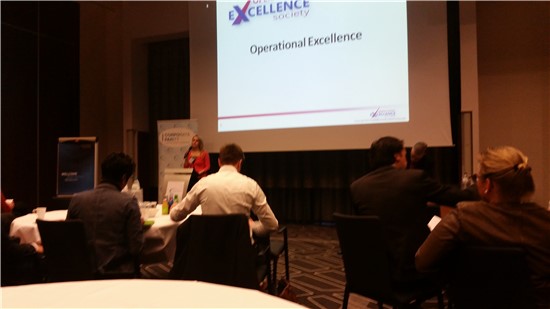 I was delighted to be able to attend the Global Process Improvement and Operational Excellence summit in Amsterdam last week. It's really great to get out and meet fellow practitioners, C-suite members and also potential collaborators, I try to do this as often as possible to make sure that I'm (and by definition Firth Improvement) keeping up with trends in business improvement, operational excellence, Lean and Six Sigma.
Rather than go point by point on each of the presenters and conversations I had over the course of the two days, I thought I would share some general observations and learning from the conference content and debate. I've summarized these into the following "trends":
Engaging people in a transformation effort
I wasn't surprised that this topic appeared as a trend, in fact almost every speaker was challenged to describe how they got maximum engagement with front-line staff, middle managers and of course sufficient sponsorship from those at the top of the organisation. The responses didn't vary greatly, as it appears the common maxims remain; Change is led from the top, create a burning platform, engage through workshops and transformation activity, get middle managers to role model, incentivise and measure staff according to the new way of working etc.
Two points jumped out at me. The first was that for all the talk of creating a burning platform or a compelling reason for change, it felt as if many of the current transformation programs had an artificial vision, one that didn't resonate with the organization at hand. I say this because, if a competitor was really eating into market share, if margins were really being squeezed, if the company was really on the edge of bankruptcy, surely the organization would rally round the call for change? It struck me that many of the compelling reasons weren't that compelling or necessarily immediately threatening, outside of C-suite desire to find a new way to hit challenging targets.
The second point was raised by Chris Ellins, MD of Total Flow. When he was asked the engagement question he rejected the premise that it was his responsibility to generate engagement. Instead he focused on getting the local teams to define their own vision, whilst defining his role as that of enabling them to achieve that vision. Should we spend more time encouraging teams to create their own compelling visions for change rather than imposing our own?
Complex vs. Simple approaches to transformation
In this respect there was not much diversity in the speakers presented, in most cases the organisations had opted for complex, highly governed, centrally controlled, high intensity, well-resourced programmes. The difference being how quickly they achieved complexity. It struck me that so much of what business improvement and operational excellence is about, is simplicity, and yet the programmes themselves are anything but.
I've worked in organisations where the transformation team spends more time on governance than at the Gemba, and it felt as if we're not learning from this behaviour. Vattenfall was the exception, Max Nieuwhoff described a central standardized framework for improvement that was tailored at a local level to customs, culture and level of improvement maturity, this light touch to governance and programme complexity seemed to generate the same results as those other speakers described.
Operational Excellence = cost savings
I appreciate this is a massive oversimplification, as many of the speakers described increased staff engagement, customer satisfaction and improvements in lead time and quality. However the purpose of the transformation efforts were primarily directed towards delivering bottom line benefits. Two companies bucked this trend; DHL and Hewlett Packard.
Both Vivek Subbaiah and Ildiko Illes described how the improvements they implemented were with the aim of freeing cash for investment in product and customer innovation (DHL) and were used to prepare the company structure for generating new revenue streams (HP). I've been working with customers over the last year that have struggled to leave behind the idea that Operational Excellence is about cost discipline, when actually many of the improvement and process changes open companies up to new markets and new ways of selling the products to customers. It could be process improvements that create a new view of segmentation, or providing online solutions improving access, or because of improvement to quality the product can now be offered to customers that were out of reach before. I'd like to see more case studies, and more companies in general, seeing operational excellence as a way of increasing revenue and not just controlling cost.
I'm interested in your thoughts on these three observed trends, perhaps you can share your comments below or via email.