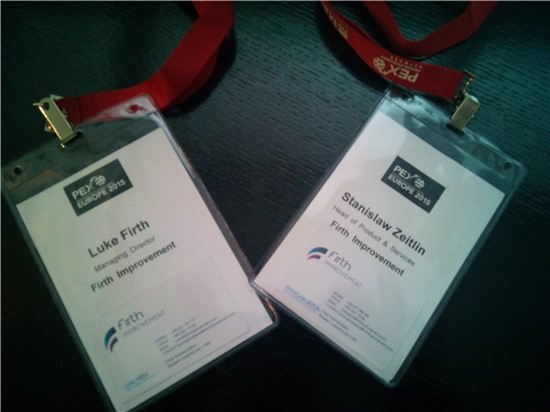 Reflections on PEX Week Europe
Attending the last conference of the season, and the high point of the PEX Network's slate of conferences, was eagerly anticipated by the Firth Improvement team. As sponsors and exhibitors, we'd been putting in the hours for a couple of weeks prior to landing in London and so it was great to finally be on site and talking to speakers, partners, and learning from the great range of practitioners
As you know by now, I spend the conference furiously scribbling notes in my book, picking quotes, comments, best practices and audience questions that really got me thinking. From listening to the speakers I kept coming back to the same thought; "look at all the ways companies have chosen to start their improvement journey, and the variety of approaches they've taken to sustaining and maintaining momentum".
Where to start
I think it's important to state, that there is no right answer, and that of the following options I don't particularly favour one approach over another. In fact Matthew Morgan put it well when he said that each improvement effort should be adapted to the organizational maturity. From absorbing the conference presentations here are the most popular approaches:
Proof of concept
Many of the companies presenting started their programmes by proving the concept, whether it was Simon Tompsett of Airbus talking about improving wing design as a strategically important part of the value chain, or Seb Antony of Barclaycard mapping the level 0 to level 4 process architecture to show his senior leaders where the gaps in the organisation were. This was, and indeed is, an increasingly popular way to get improvement on the Exceutive agenda, show them it works in an area they care about.
Life or death
This option was expertly illustrated by David Spickett of Thomas Cook. Having started their programme at their lowest point they immediately got the buy-in and resources they required to transform their business. It's pretty risky to stand in front of your Leaders and essentially bet everything on red, but when you execute as well as Thomas Cook and also ABB (in a similar case study) did the benefits start coming thick and fast.
Performance management
This was the first time I'd seen an improvement initiative started by a relentless focus on performance management. Joerg Baier of Maersk Line gave a compelling account of how managing the way that performance is measured, managed, reported, and discussed in meetings can kick start an improvement effort. The beauty of this approach is that it doesn't require a lot of resource, just a willing leadership team and a number of courageous internal coaches willing to help them to adjust their behavior. It also lays some good foundations for engaging everyone in everyday Kaizen.
Everyday Kaizen
By far my favourite presentation of the conference was Stuart Wood of Oxford Instruments. I liked it because of the simplicity of the topic, but also because their bottom up approach to improvement is something I also am passionate about. It was great to hear from Stuart about how they started by going to where the pain was and got staff to do a simple tally chart on work stoppages, this was then followed up by challenging the teams to come up with as many improvement ideas as they could. The data collection and the themes arising from the ideas contradicted the management view of what the problems were, and smoothed the path to getting everyone on the journey.
How to finish
Obviously, you never really finish but what options to have to sustain the changes. Oliver Campbell summed it up nicely on a panel discussion when he said "We underestimate how long these changes take to stick". Here are some ways companies are maintaining improvement momentum:
Coaches and Sustainability teams
By far and away the most popular approach discussed at the conference was the embedding of coaches and the mandate given to central sustainability teams to maintain momentum once the initial project team has moved on. The main flaw of this is that often the project and sustainability resources are different people, given insufficient time to handover the detail of sometimes complex improvements. Jay Que of Shell, raised an excellent point in his presentation, when he was talking about local coaches and how much time they should spend: "anything less than 50% of their time, and it is a hobby and not a job". He went on to describe the Shell approach of finding local resource and slowing building up that percentage based on whether the local unit felt the coach was adding value. In a Turkish site, their coach went from 25% to full time in a matter of months because of the value they were adding to site performance.
Assessments and Audits
At the OPEX conference I attended in Amsterdam earlier this year, the big sustainability theme was assessment and audits. However at PEX Europe there was less emphasis on tools and much more on creating the right culture for momentum to be maintained. When this approach was mentioned it was with the caveat that it was a good indicator of progress rather than the sole method in use. Ed Koch of SABMiller, showed how sites were encouraged to self-assess in a bid to maintain the enthusiasm for improvement, and although Iris Kaib of DHL didn't run through it in detail, the "First Choice" programme is underpinned by a tried and tested assessment process.
Make work more fun
This final approach, was surprising and came from an unexpected place; Investment Banking, which can't be a particularly fun place to be in light of current events! Both Sophie Leng-Smith of Deutsche Bank and Iris Kaib spoke about making work more fun on their PEX awards panel discussion. This was surprising, because it's obvious and yet often overlooked. True improvement and Lean makes work meaningful for people, it removes frustrations and allows them more time to pursue value adding tasks. As Sophie said "If you've made work fun and more interesting, why would they want to go back to the old ways?"